Can't find the "LOAD" button. :(

Printed From: SalesCart
Category: SalesCart: Cloud
Forum Name: SalesCart Cloud: General
Forum Description: Install, Setup or general questions about SalesCart Cloud
URL: http://forum.salescart.com/forum/forum_posts.asp?TID=926
Printed Date: December/03/20 at 11:01am
Software Version: Web Wiz Forums 11.04 - http://www.webwizforums.com


Topic: Can't find the "LOAD" button. :(
---
Posted By: This is Beautiful
Subject: Can't find the "LOAD" button. :(
Date Posted: February/21/15 at 4:22am
---
Alright! No more you are not allowed to post message! Now back to what I had put on FB because I was frazzled to the point of giving up. I'm about to start taking pix of my inventory and I would really love to set things up in case a miracle happens and I actually sell something online LOL! In May there is a new street market opening in a very posh area and I would love to be able to offer people the option of paying with their phones. Not having a fancy phone myself, (I'm 57 and cranky) I might be a bit bleary about understanding that part, but first I need to personalize the shopping cart. I'm not sure if there is a page separate from my FB page or just the checkout... I'm so confused. Are there certain tutorials that I should be using? And I'm still at a loss as to where this "LOAD" button is. Here's the original FB post>>> TY!>>> "Please click on Load next to the store you wish to load. !??? WHERE is this elusive "load" button? I have finally after hours made it this far: https://www.salescart.net/Navigation/Account/LicenseMgr.aspx and this: https://www.salescart.net/navigation/welcome.aspx where it says: Loading the Store to Administer: You can load a store by clicking on Profile>>Your Store from the menu and click Load next to the store you wish to administer. >>>> But it does not work for me<<< I have watched the videos which are confusing and could use someone talking rather than loud music and arrows... I DID want to upgrade to artisan, but if I can't manage to get the free one to work... I'm frustrated, it is hot and humid here, and I give up.


---
Replies:
---
Posted By: admin
Date Posted: February/22/15 at 3:36pm
---
You click on the SalesCart App in Facebook, click on Administer Store button and there are three Hyperlinks to the LOAD screen on the very first page. Do you see it?

I'm attaching a screen shot as well with all 3 LOAD hyperlinks highlighted.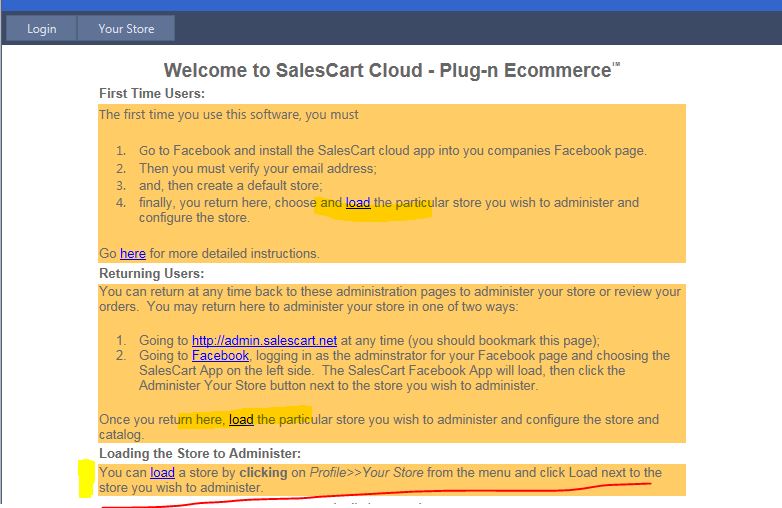 Also, we've asked a couple times via private message as well and still have yet to get an answer. What is the address to your Facebook Page?

---
Posted By: admin
Date Posted: February/22/15 at 11:36pm
---
Once you click the LOAD hyperlink, you will see this page and load is highlighted. Let us know you found it.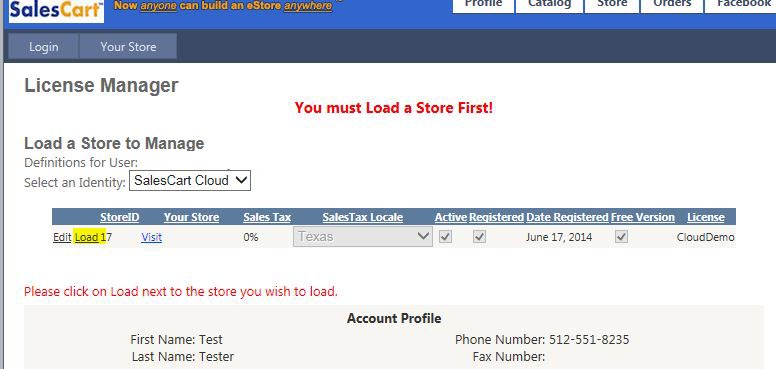 ---
Posted By: This is Beautiful
Date Posted: February/23/15 at 9:31am
---
Yep TY! I had managed to work it out, Now my other question is how do I make it NOT a demo store anymore? I can't seem to get it to dump the sandwich shop and make it my own... I feel like such a gimp. Also I'm trying to figure out if I need to go find a template and put my pictures in that. Everything is so technical to me.
---
Posted By: admin
Date Posted: February/23/15 at 9:42am
---

Good! Its not really technical....you just click on EXACTLY WHAT we click on using your own pictures and words for your products. We have lots of customers that are retired who would describe themselves as not technical or computer experts. You just need to watch the video.....turn the sound down. It goes step by step of EXACTLY what to do as we take the Sandwich demo and turn it into a Bakery shop, editing the category and product first, then adding a new product. The "words" on the screen TELL you WHAT to CLICK so there is no need for narration that simply would say the same words that already show up on the screen. Plus, you can put the video in one screen and "PAUSE" it until you finish that step...this is something you can't DO WITH narration that you can do with typed words. Narration would only serve to confuse as your brain would try to tie the narration with the words on the screen. That's why we don't narrate but use typed words and screen actions to show you what to do. Watch the video with three browser windows up.

Do you know how to create and size images? You will need to know how to do this and that part is more "technical" but I can provide you some links of things that can help you with that if you don't know how to do that part.

https://www.youtube.com/watch?v=Bvqwxo_28k4" rel="nofollow - Step 2 Video: customizing the demo category and products


Browser pointed to the SalesCart Control Panel


Browser pointed to your Facebook Store


Browser pointed to the video




Stop the video, switch to other browser window, repeat the step in the control panel, finally, at the end of the step, switch to 3rd browser window, go to your Facebook Store browser window, press the F5 button to refresh the screen and see what it did at the very end of that step.
---
Posted By: admin
Date Posted: February/23/15 at 9:54am
---
You can't mess anything up as long as you don't press the DELETE button. Stay away from the DELETE button. The only thing you are going to want to delete (possibly) are options on the first product. The only time we press delete in the video is for the product options. Your first goal is to change the existing department to your department, and change the first category to your category. If you mess something up, you just do those steps over. Once you complete that, you will edit the product to be YOUR product.
---
Posted By: admin
Date Posted: February/23/15 at 2:16pm
---
We are here to help you! Don't worry....


---
Posted By: This is Beautiful
Date Posted: February/23/15 at 8:15pm
---

I LOVE you guys! It's as hot as 40 hells here today, so I'm taking this laptop into the house and working on it! I feel better knowing that I'm not the only "crazy old fart" giving you trouble! LOL!

Like I said in the PM, ever since I told Shopify that I was leaving them for you guys, they've been sending me emails trying to win me back, but they don't have what you do. That little black and white box that my customers can shoot at with their phone to pay! And that's what I'm working for!
And if I can get this to work the way I think it will, you'll be getting "Market People" from Western Australia in heaps wanting one too! I'm getting them used to American style little by little!




---
Posted By: admin
Date Posted: February/23/15 at 10:57pm
---
You are talking about a QR Code. Once your Facebook store is working, you will also have a mobile store. You can QR Code your mobile store and the person will go directly to your mobile store from the code.
---